THE N155/4.X
HIGH YIELD. LOW COST OF ENERGY.
INCREASED SWEPT AREA
OPTIMIZING CAPACITY FACTOR
IMPROVED PARK AEP
IN TYPICAL CON-DITIONS (vs. N149/4.8)
LOW COE
BASED ON PROVEN MAIN COMPONENTS
Designed for growth markets
Optimized performance for markets with less complex sites
The N155/4.X variant of the Delta4000 product series is targeted to achieve improved cost of energy and annual energy production in sites with limited constraints.

It's based on the proven and certified architecture of the Delta4000 but includes a glass-fiber rotor and different hub set-up to optimize performance
in typical conditions found in many MW-constrained projects.

This could include locations around the globe but will fit optimally in much of the United States, Latin America, South Africa, and Southeast Asia.
Delta4000 architecture certified on site
PROVEN TECHNOLOGY
The N155/4.X leverages the tested and proven performance of the N149/4.X which is already measured in the field.

Operating data
Cut-out wind speed
25 m/s
Rotor
Rated rotational speed
11 rpm
Tip speed
85.9 m/s for the 4.5 MW mode; 88.0 m/s for the 4.8 MW mode
Hub height
Hub height
up to 120 m, project and site-specific
The strategy-evolutionary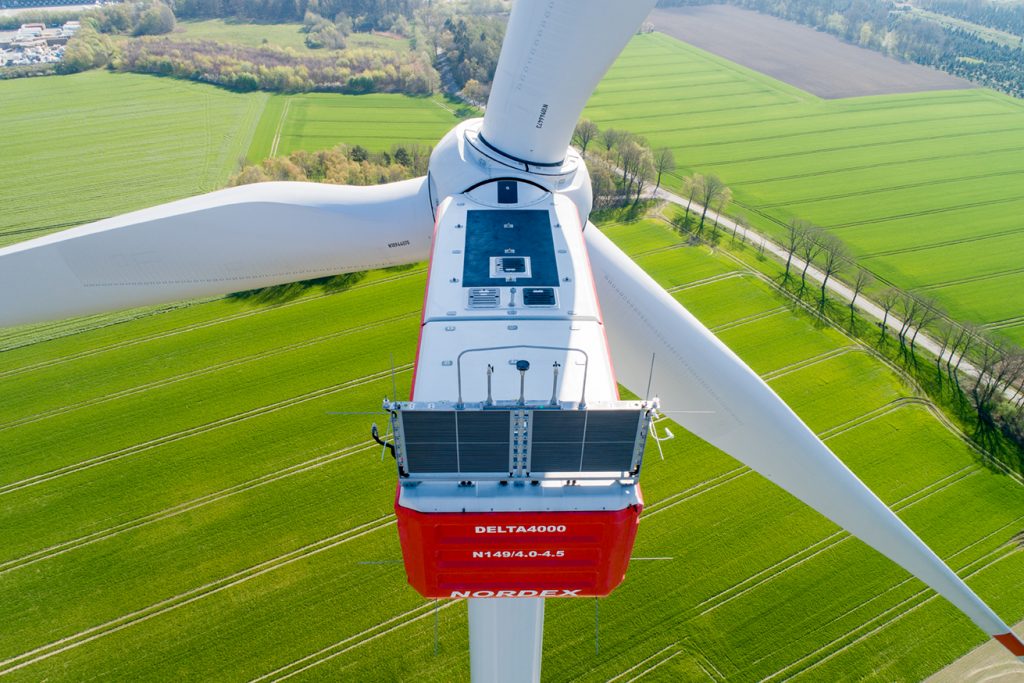 CONNECTING PROVEN TECHNOLOGY WITH INNOVATIVE ENGINEERING
For the Delta4000 product series, we took over the Delta
Generation's fundamental design and transferred it to the 4 MW, 5 MW and 6 MW+ classes.

Depending on the investment criteria of the customer's business case, the wind farm can be optimized in terms of AEP, rating, lifetime and sound requirements. In addition, this flexibility offers opportunities to optimize the revenues in line with PPA structures and merchant price profiles.

1. OPTIMIZED POWER TRANSFER
2. LARGER ROTOR DIMENSIONS
3. REDUCED SERVICE EFFORTS
4. MAINTAINED ELECTRICAL SYSTEM
5. RELIABLE DRIVETRAIN CONCEPT
6. GRID COMPATIBILITY GUARANTEED
More about the delta4000 series
Explore the delta4000 portfolio