Memberships & Initiatives
MEMBERSHIPS & INITIATIVES
As a manufacturer of wind turbines, our products play a key role in creating a sustainable energy landscape. Even though the efficiency of our systems is high and the technological standard is already very demanding, we are not stopping there. The development of a climate-friendly energy policy is driven by many indispensable factors, which can only be successful individually in complex interactions. Today and in the future, climate-friendly energy generation requires numerous actors to combine their know-how in order to make sustainable energy reality. The Nordex Group is aware of its responsibility and fully intends to shape this global transition actively. Therefore we take part in over 40 international and sector-specific associations. As a member of management and steering committees, we play an active role in these organizations, thus we shape the standards and quality of the wind energy sector. With our commitment we want to promote wind energy politically, as well as societally and represent the interests of the industry.
GLOBAL WIND ORGANISATION
We see as one of our most important responsibilities to ensure that our employees worldwide work in safe and secure conditions. Being aware of safety hazards is key to managing and preventing them. As a member of the Global Wind Organisation (GWO), the Nordex Group collaborates with leading wind turbine manufactures and owners in order to identify work activities where the design of standardised training can enhance safety for employees. Our membership enables us to influence the safety standards of the industry and to drive our shared main goal – to creat injury-free work environments and set common international standards for safety training and emergency procedures in the wind industry.

WIND EUROPE
WindEurope is an association with over 400 members, active in over 35 countries, which educates and promotes wind power worldwide, especially in Europe. Next to wind turbine manufacturers, component suppliers, researchers, renewables associations, project developers, contractors, electricity providers, finance and insurance companies, as well as consultants form a well-networked innovation alliance.
The aim of WindEurope is to raise awareness of the benefits of sustainable energy production and to increase social acceptance of wind energy. Together with the industry and research institutions, WindEurope also works on technology and market development projects.
GLOBAL WIND ENERGY COUNCIL
The Global Wind Energy Council (GWEC) is a international trade association for the wind power industry. The main GWEC members' focus is to establish a beter policy environment for wind energy in order to help drive wind power towards becoming the answer to today's energy challenges. To do so, the GEWCs' main emphasis is on the communication of the benefits and potential of wind power, the allocation of research and analysis of the industry, and the sharing of best practices and knowledge.
AMERICAN CLEAN POWER ASSOCIATION
The Nordex Group is also a member of the American Clean Power Association (ACP), which refers to itself as the voice of the renewable energy sector in the United States of America. ACP represents a unified view of the industry and, together with wind and solar energy players, as well as transmission and storage companies, advocates for policies that enable rapid, continuous growth of all renewable energies. The collaboration is expected to find cost-effective solutions to the climate crisis, create jobs, drive investment in the U.S. economy, and boost high-tech innovation.
GLOBAL ALLIANCE FOR SUSTAINABLE ENERGY
The independent Global Alliance for Sustainable Energy brings together utility companies, major manufacturers in the wind power and solar PV supply chains, industry associations and innovation partners. It aims to join efforts with civil society, end users, policymakers, academic institutions, materials suppliers, original equipment manufacturers and likeminded utilities to interface with governments and investors. The alliance was created to drive progress towards the full sustainability of the renewable energy industry. The members of the Alliance are set to work together to tackle the sustainability challenges in this transition and bring results in both the short and medium term. The main goal is the transition to net-zero and socially-responsible energy production, achieving the ambition of the Paris Agreement to avoid the harshest impacts of climate change on people and the Planet. The Nordex Group is one of the 17 founding members.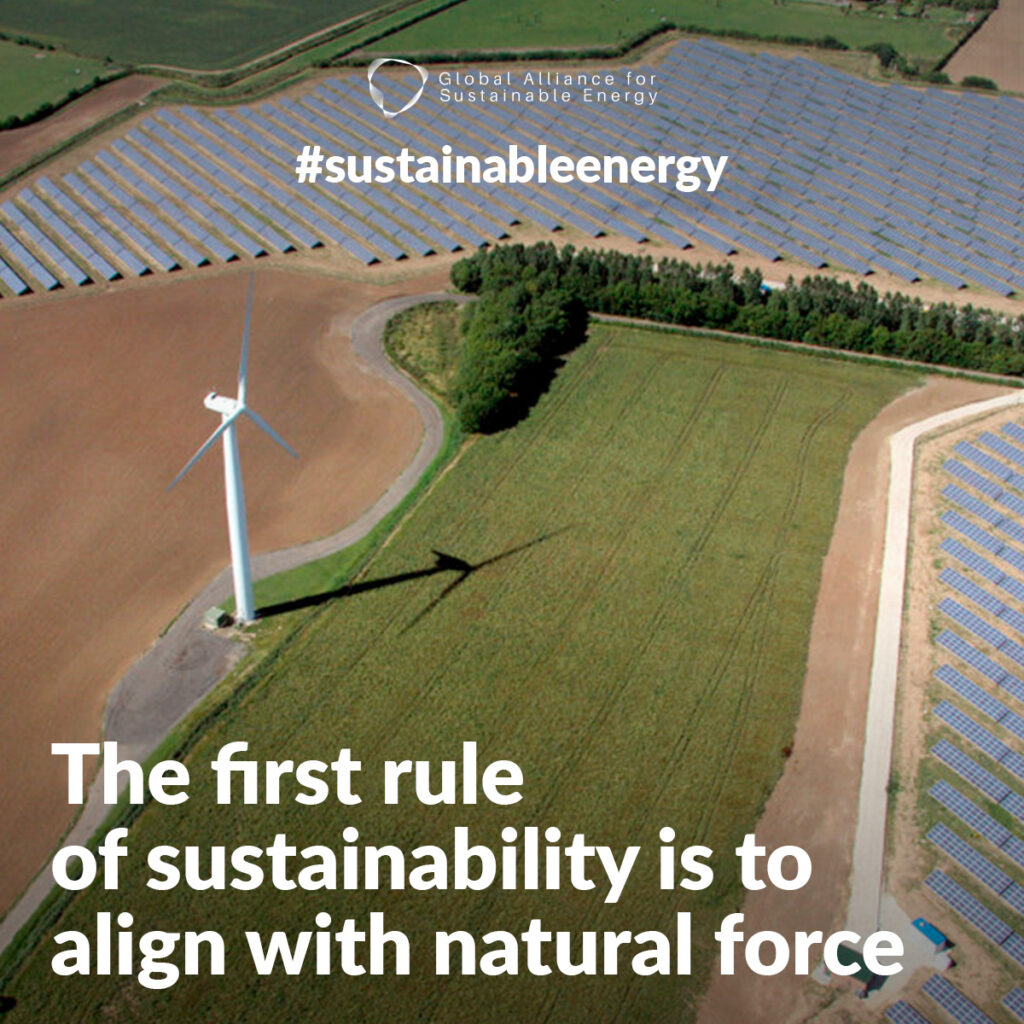 The alliance is initiating the collaboration by focusing on four key areas, aligning different players by setting and harmonizing standards and metrics, around which common targets can be set, and aligning around best practices. The focus areas are: net-zero emissions and CO2 footprints, circular economy and design, human rights and water footprints.



Selection of further Memberships
Corporate Social Responsibility
The Nordex Group has become a global player and one of the world's largest wind turbine manufacturers, which is active in over 40 countries. As such, taking on Corporate Social Responsibility (CSR) at a local level is part of the way we see and understand ourself. We consider Corporate Social Responsibility as our opportunity to contribute to regional development and engage as a member of the local community in regions where we are based.
Besides our company's economic objctives, we are committed to the United Nations 2030 Agenda for Sustainable Development principles of using global resources responsibly, protecting the climate, and ensuring people can enjoy prosperous and fulfilling lives. To achieve these aims, knowledge exchange and transfer are of key importance. This is why at the Nordex Group we focus our social engagement activities on suporting public and private training, on further education institutes that are active in the areas of renewables and climate protection, and on backing social and humanitarian projects and institutions.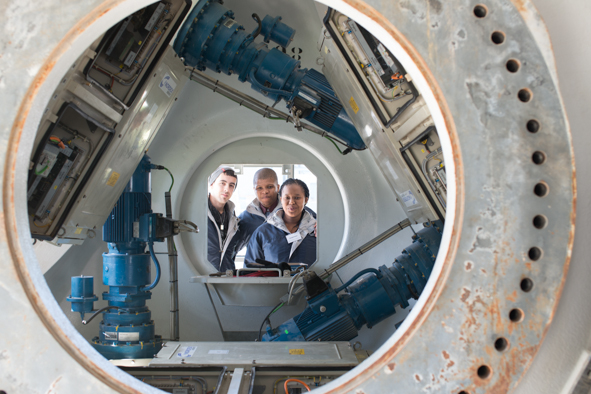 We engage for the benefit of society at all our sites and see education as a crucial topic.
ENERGY CAMPUS
The Nordex Group partners with the Hamburg University of Applied Sciences (HAW Hamburg). At the Energy Campus run by HAW, the Hamburg Competence Center for Renewable Energies and Energy Efficiency, future issues are researched by interdisciplinary teams of students and scientists which may, for instance, be used to optimize wind power systems. To ensure the course delivers hands-on training, and that research is conducted under realistic conditions, the wind farm Curslack, with five turbines of type N117 was put into operation right next to the Energy Campus in 2017. The direct connection offers the advantage that real-time information from active turbines can be researched directly in the wind laboratory. Besides the wind laboratory, the technology center includes a smart grid laboratory, in which efficient and intelligent solutions in the interaction of energy generation, consumption and storage are developed and tested.
NEW 4.0
The inititive NEW 4.0 brings together around 60 local and international partners from the worlds of business, science and politics, targeting a sustainable energy supply for the German federal states of Hamburg and Schleswig-Holstein, and aimes to strengthen the future viability of the entire region. The main challenges facing this project are to be countered on the one hand by increasing the export of electricity to other regions by means of an efficient energy infrastucture and innovative grid technologies, and on the other by increasing the energy self-recovery rate. The Nordex Groups core objective of involvement is to develop and demonstrate system service that increases the stability of the power grid through decentralized, renewable energy generation. Furthermore, we have set ourselves the goal of becoming a supplier of hybrid power plants as well. To achieve this, the Nordex Group is testing the integration of energy storage at wind farms along with potential operational control concepts.
SOUTH AFRICA PROJECT
In South Africa, the Nordex Group accompanied its market entry with its Nordex Education Trust. This foundation has a 20% stake in Nordex Energy South Africa and supports disadvantaged population groups, as well as projects in the fields of of school education, sports, culture and community work, by providing scholarships and grants for study, research and training. In this way, we are able to support numerous non-governmental organizations, schools and universities, as a number of sports and cultural associations over the last few years. The foundation has also entered into strategic partnerships with Stellenbosch University and Nelson Mandela Metropolitan University. Through involvement in various development inititives promoted by the Nordex Education Trust and by the Nordex Broad Based Black Economic Empowerment (BBBEE) Fund, we are contributing locally in terms of socio-economic as well as business skills and competencies development in this region.
PAKISTAN PROJECT
Since as early as 2011, the Nordex Group has collaborated with the wind farm operator Fauji Fertilizer Company Energy Limited (FFCEL) to set up a wind park in Pakistan. Over the course of the project FFCEL, launched a comprehensive Corporate Citizenship program with the goal of providing sustainable support for the local community and its development. The program includes educational, health, environmental protection and local infrastructre creation projects. The Nordex Group supports the FFCEL, amongst other aspects in implementing the self-supporting lighthouse project "FFCEL Technical Training Center" (TTC). Each year, the program offers 15 young people the opportunity to join a two-year training program. As part of this, they can gain specialist knowledge of routine servicing tasks and scheduled as well as unscheduled maintenance measures. Employees from the Nordex Group provide technical support, set-up production site visits and partly lead the training.
RENEW AFRICA INITIATIVE
Africa's energy needs are growing rapidly due to the continent's fast increasing population and urbanization. These structural changes lead to both political and social challenges for Africa, but have the potential to positively influence the economies. Therefore a sufficient energy supply for domestic, commercial and industrial demand is essential, as 48% of the African population already has no access to electricity.
RenewAfrica is a European initiative of the RES4Africa Foundation, which is supported by 25 members from the financial, industrial and development sectors and aims to promote renewable energies in Africa and thus strengthen the sustainable development of the continent.
In order to close the energy access gap in Africa, the members are currently working on combining existing financing instruments, e.g. those of the European Commission, and on mobilising private capital through evidence-based mixed financing. The aim is a one-stop-shop programme that maximises the results of these European funds and supports throughout the project cycle, by policy dialogue, capacity building, technical support and financing.
RenewAfrica is committed to more than just Africa's energy supply. By producing sustainable and cost-effective energy, industrial activities and the development of services in urban parts of Africa will be strengthened. Further the agriculture in rural areas will expand. The jobs thus created will promote the social progress of the continent.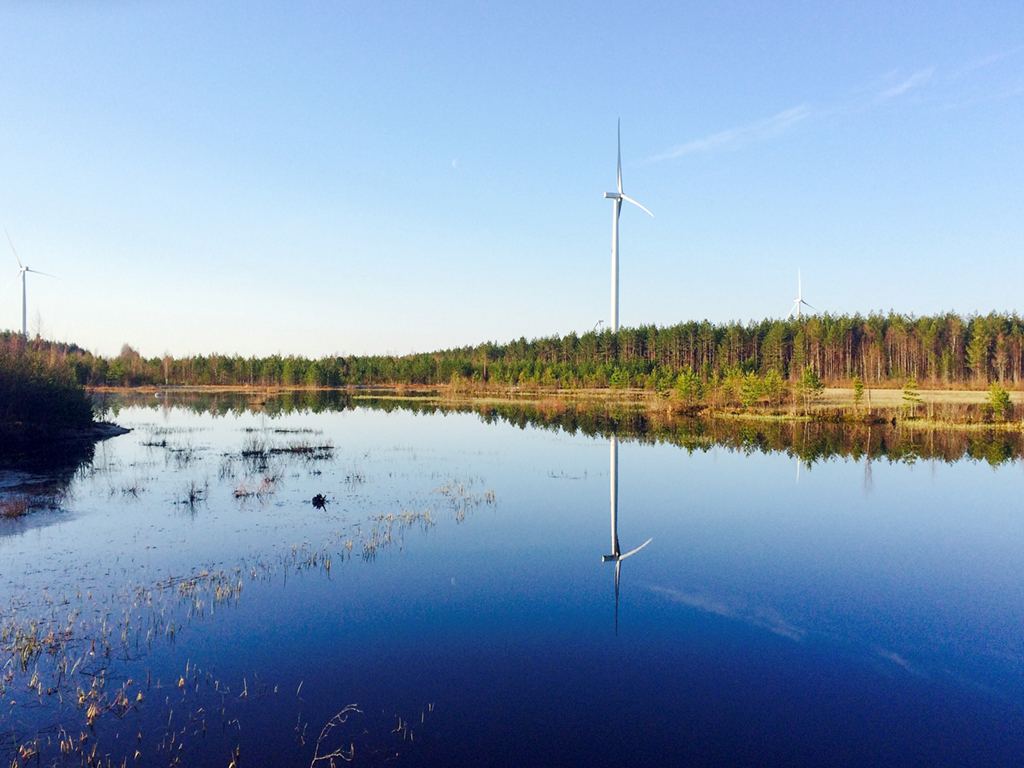 USING ENERGY EFFICIENTLY AND SENSIBLY, BOTH IN ENVIRONMENTAL AND ECONOMIC TERMS, IS A CORE GOAL OF THE NORDEX GROUP.
As a manufacturer of wind power systems, the Nordex Group's business activities are focused on generating electricity from the wind in an efficient, environmentally-friendly way. In doing so, we attach great importance to comprehensive environmental protection aspects. The Nordex Group has therefore implemented an integrated management system (IMS) regarding quality, health, safety and environment and had it certified to the DIN ISO 9001:2015 (quality), DIN ISO 14001:2015 (environment) and ISO 45001:2018 (health & safety) standards. This system supports the Nordex Group in raising our environmental protection performance and ensuring we meet compliance requirements as well as our environmental objectives. We are also committed to continually increasing our energy efficiency through a continual improvement process, which is why our German production sites and office buildings have been ISO 50001-certified since 2014. The launch of our Energy Management System also enables us to document our contribution to environmental and climate protection activities.