USE WIND INTELLIGENTLY.
LIVE SUSTAINABILITY.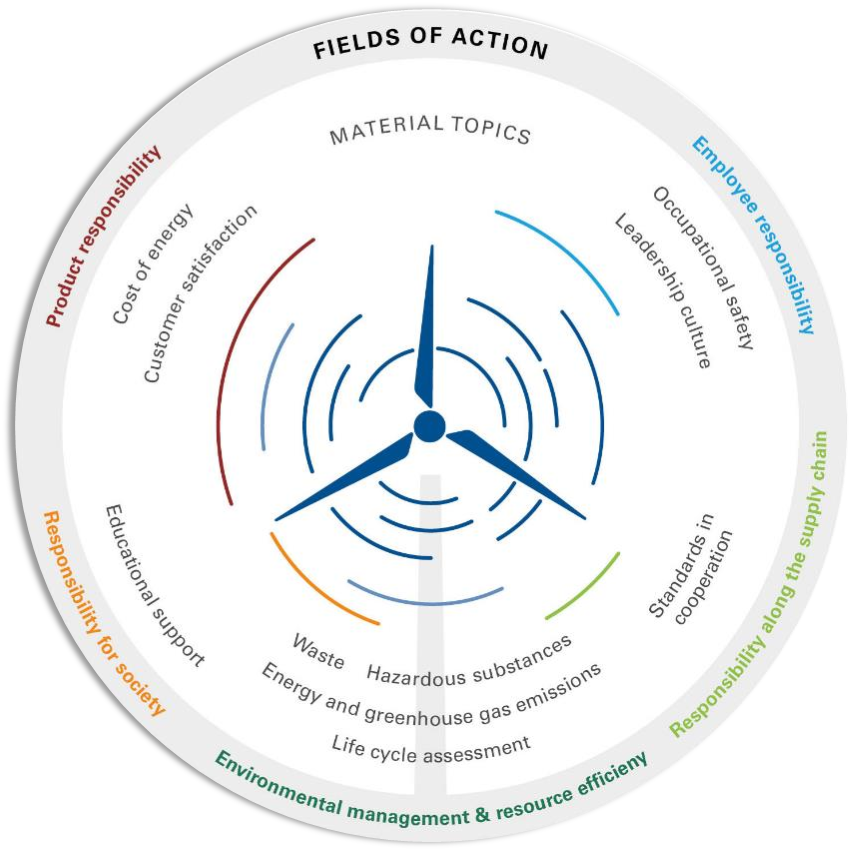 THE GOAL: SUSTAINABILITY IN ALL AREAS
As a manufacturer of innovative onshore wind turbines, we help to continually increase the share of renewable energies in the global energy mix. Sustainability is the core of our business model. Even though our technological standard is already very high and our plants are extremely efficient, we aim to achieve more.
We are convinced that sustainability is essential not only for the commercial future of the Nordex Group, but also in order to preserve our environment for future generations.
For this reason, the Nordex Group pursues a holistic approach. On the way to operating sustainably as a company in all areas, we set ambitious targets for ourselves and continually strive to make improvements.
The objective is clear, how to get there is described by our sustainability strategy.
SUSTAINABILITY – ORGANIZATIONALLY ANCHORED & STRATEGICALLY LEADING THE WAY
Nordex's sustainability strategy for 2019 to 2021 is based on the sustainability approach "Use wind intelligently – Live sustainability". This encompasses the central themes of sustainability for this period, which the Nordex Group summarizes in five strategic areas of action: product responsibility, employee responsibility, responsibility along the supply chain, environmental management and resource efficiency as well as social responsibility. Specific targets were defined for these core topics. The organizational division of Global Sustainability Management is responsible for the ongoing strategic development of the Group with respect to sustainability issues and remains in constant contact with all company divisions to strategically align sustainability activities. The department is part of the central organizational unit Quality, Health, Safety & Environment (QHSE) which reports directly to the management.
THE SUSTAINABLE DEVELOPMENT GOALS OF THE UNITED NATIONS – OUR CONTRIBUTION
As the core element of the 2030 agenda, the General Assembly of the United Nations approved 17 global goals for sustainable development in 2015: the Sustainable Development Goals (SDGs). The Nordex Group has integrated these goals into its sustainability approach. In particular, we see opportunities to influence the three SDGs "Affordable and clean energy" (7), "Decent work and economic growth" (8) and "Climate action" (13), since we can make a significant contribution in this regard with our business activities.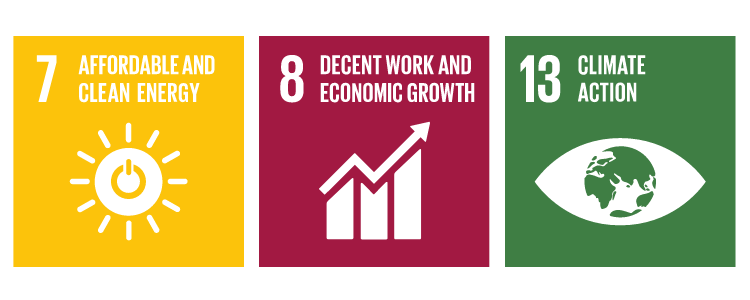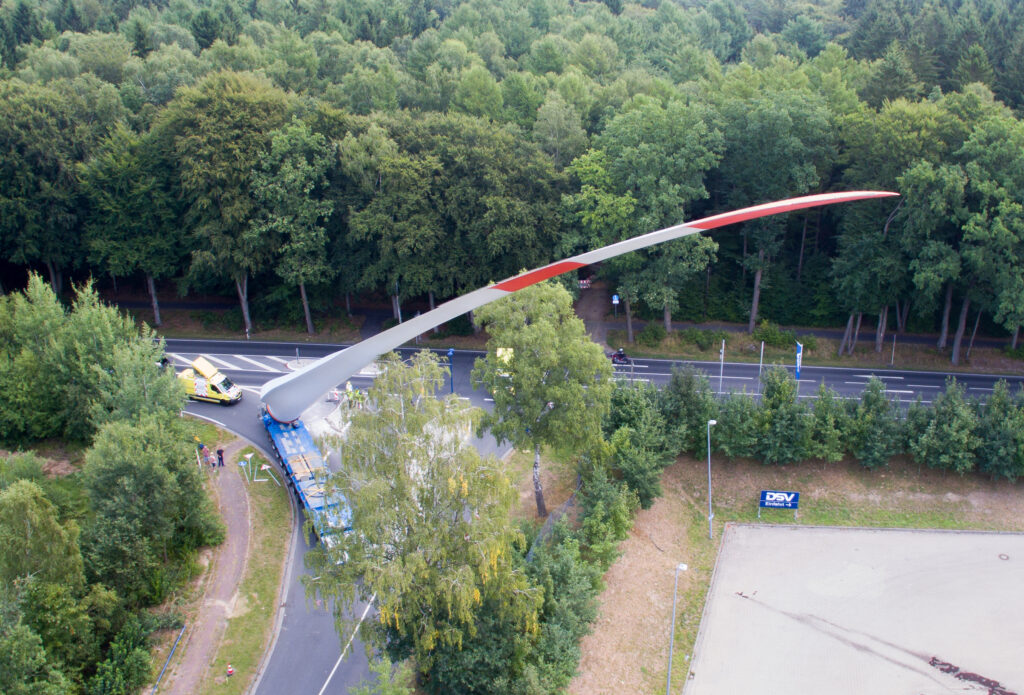 MAKING GREEN ENERGY AFFORDABLE
Starting with the development and construction of our turbines, as well as for technological enhancements, we consider ecological, social and health-related aspects such as service optimization, material selection, noise emissions or recyclability.
To keep wind energy viable for the future while competing with other energies, the costs of power generation have to be reduced even further. For this reason, annual cost reduction by a high one-digit percentage is an important strategic goal of product development at the Nordex Group.
We are constantly working towards our goal of meeting the globally growing energy demand with power produced using regenerative and environmentally-friendly methods, and thereby actively driving forward the energy transformation. The satisfaction of our customers is a decisive factor for our company's success. For this reason, it is very important for us to consider the customer's perspective, understand our customers' needs and always orient our services on these requirements.
Material usage and efficiency gains with Delta4000 product series
Yield increase of wind power turbines and reduction of resource usage by up to 20% thanks to intelligent reutilization of components and production materials from previous equipment, such as production molds for rotor blades, or retaining many components inside the wind turbines in line with the component sharing principle for the transition from the Delta4000 4.X to the 5.X series.
Harmonizing the product range

Harmonizing/reduction of the product range on offer by focusing on products that are nearing the end of their product life cycle in order to optimize material usage, reduce storage costs, increase productivity, improve quality and enhance the relative environmental performance.
Reduction of electricity generation costs
Reduction of electricity generation costs with the company-wide "Cost of Energy (COE) program", for example using "value up" approaches such as yield increase or extension of service life with equivalent or only slightly increased usage of resources. This goes hand in hand with "cost down" initiatives such as improving logistics concepts for more efficient transport as well as material savings in components thanks to better design.
Product safety and health
Implementation of health and safety requirements for a smooth maintenance process, a safe working environment and reduced downtimes. Continual observation of all relevant regional market requirements and identification of statutory and normative minimum obligations in the relevant target markets and operating markets
Expanded range of application for Nordex plants worldwide
Technical optimizations to develop high-yield sites with particularly low and high average temperatures.
Replacing wind turbines at the end of their planned design service life with more efficient turbines to maximize energy generation. In this way, we work our way towards achieving targets in the area of renewable energies and make considerable gains in resource efficiency
Strong service with improved product development processes for minimization of downtimes and maximization of yield, e.g. by using self-erecting crane solutions – and thereby reducing the environmental impact of our turbines
Control of plants to protect flora and fauna as well as residents
Innovative control of plants to protect flora and fauna as well as residents by offering a variety of operating modes and equipment modules (e.g. needs-based warning lights for aircraft, the shadow flicker module and special protection modules).

LIFE CYCLE ASSESSMENT
In 2019, the Nordex Group investigated the environmental performance of a wind farm with our latest Delta4000 turbine. In the process, we analyzed the entire life cycle of the turbines in accordance with ISO 14040 and ISO 14044.
One significant indicator here is the climate impact, measured in greenhouse gas emissions per generated kilowatt hour of electricity. For this purpose, the greenhouse gases emitted over the entire life cycle of a wind turbine are compared with the energy yield. In the case of the wind farm calculated during this assessment, this value was 6.5 g CO2e/kWh.
A comparison with the greenhouse gas emissions of fossil energy sources per kilowatt hour of generated electricity makes it clear that highly efficient wind power plants play an enormous role in global emission reductions.
Detailed insight is provided by the audited report on the analysis and its findings: LCA Delta4000
Based on this LCA study, Nordex published an environmental product declaration in accordance with the requirements of EPDItaly.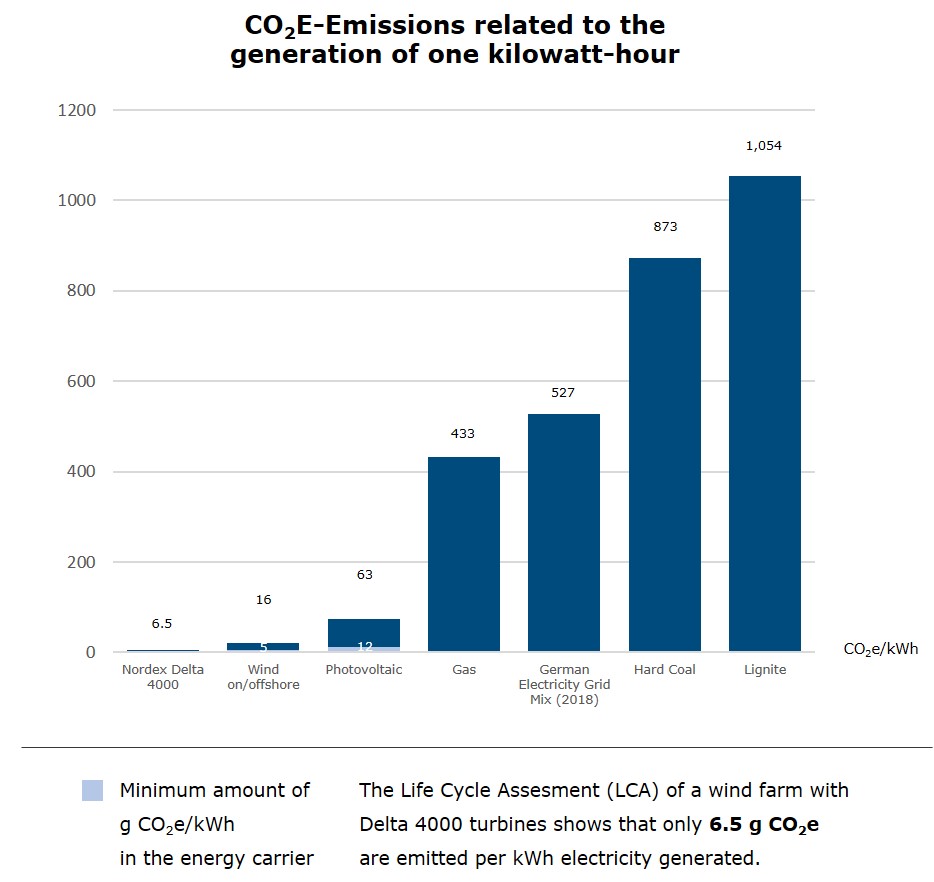 Source: Sustainability Key Facts 2020, page 13 & 28
Integrity, respect, collegiality and ownership
EMPLOYEE RESPONSIBILITY

Our success as a global company which employs a variety of people with different backgrounds and cultures is based on a company culture oriented on the continuing education, loyalty, satisfaction, health and diversity of its employees.
We view this diversity as a decisive advantage. Men and women, different age ranges and cultural backgrounds, a variety of worldviews and lifestyles all enrich the Nordex Group. These perspectives shape our work and our everyday interactions with one another.
SAFETY FIRST

Being aware of potential dangers is the most important requirement for preventing and safely managing risks. This principle is the basis for the "Safety First" culture of the Nordex Group. We view it as our responsibility to ensure that employees worldwide can work in a safe environment.
Whether with visitors or colleagues, our meetings start with a Safety Contact to raise awareness about risks. All division leaders and team leaders in plants, at service locations, on construction sites and in branch offices take part in regular seminars.
With the goal of establishing an ongoing dialog about safety and risks, conducting safety inspections is a mandatory duty for executives. Nearly all production sites, the company offices in Hamburg and Spain as well as the branch offices are certified in accordance with the environmental management standard ISO 14001 and the standard for occupational safety and health ISO 45001.
Internal campaigns implemented globally aim to raise awareness among employees: safety is not just about policy at the Nordex Group, it is a matter of the heart.
Responsibility along the supply chain
A significant share of our added value is generated in the pre-production phases. In this context, we procure products and services from numerous suppliers in various countries around the world. Our Code of Conduct for subcontractors and suppliers of the Nordex Group provides a foundation to ensure that our ecological and social standards apply along the entire supply chain.
THE GUIDING PRINCIPLE:
HUMAN RIGHTS

All our business decisions and activities, including our investment agreements, protect human rights worldwide.
Our guidelines are the principles of the UN Global Compact, the OECD guidelines for multinational companies and the General Human Rights Declaration of the UN. This forbids any child labor, forced labor, discrimination or retaliatory measures. The trust of our customers, shareholders, business partners and the public depends on this crucial foundation. We also place the same requirements on our business partners. Our company culture is based on our central values as well as the principles and guidelines for conduct, in particular the codes of conduct that are defined for personnel and suppliers.

LEARN MORE
STANDARDS FOR RESPONSIBLE INTERNATIONAL COLLABORATION

In order to fulfill our responsibility along the supply chain, we have defined standards that also cover collaboration with suppliers. We are continually optimizing our review process for collaboration.
We also actively support equal opportunities and equal treatment of employees as well as full compliance with laws and regulations concerning freedom of association and collective bargaining agreements. We also require this attitude for any collaboration with business partners. In order to guarantee this, we regularly conduct an assessment of relevant suppliers in the form of visits and audits.
In order to comply with our standards, we carry out regular and extraordinary event-driven audits. The aspects of compliance, environmental protection and responsibility for the supply chain are also an integral components of the audits we conduct before taking on new suppliers.
Environmental management & resource efficiency
We can only offer our customers truly sustainable wind power turbines if our processes are environmentally friendly and resource-efficient. Nordex works continually to prevent waste, reduce hazardous substances and procure the required electricity at all sites entirely from renewable energy sources. At Nordex, we are permanently committed to analyzing all aspects in detail and documenting them transparently to develop case-specific and appropriate solutions that prevent negative effects on the environment.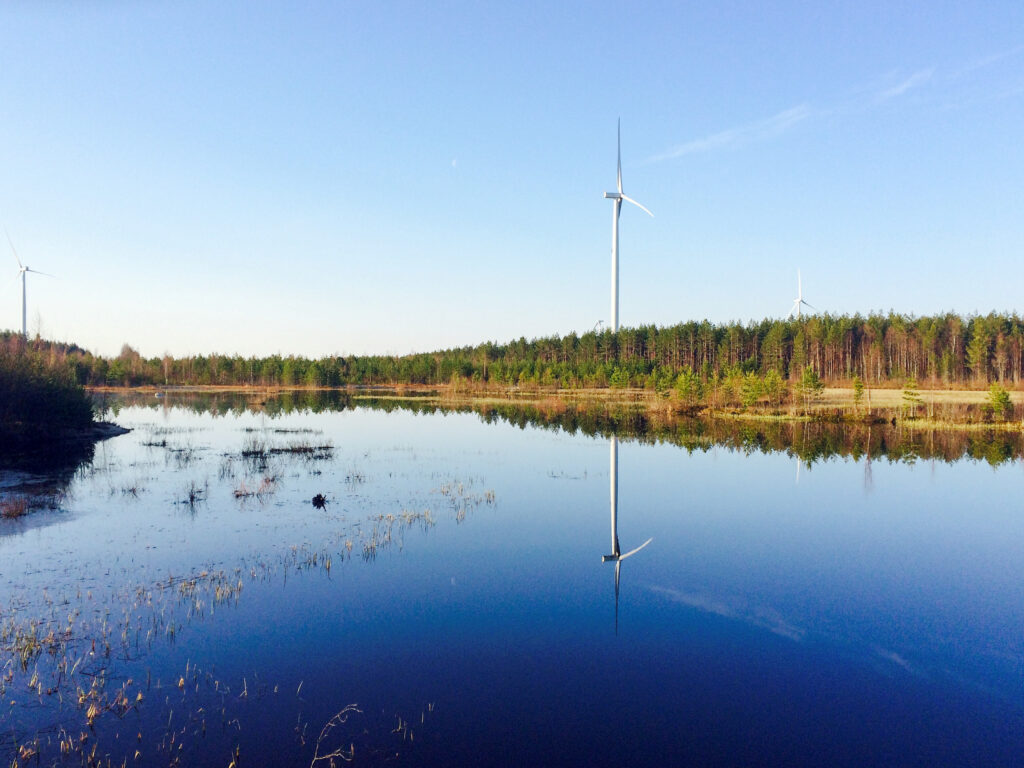 Through our careful use of resources, we aim to continually reduce our environmental footprint.
As a manufacturer of wind turbines, the production of facilities for environmentally-friendly and efficient power generation from wind is the core of our business model. In this regard, we place a high value on environmental protection across all life cycle phases of our systems, from development to procurement, production and operation all the way to dismantling and recycling.
To this end, we rely on integrated systems for quality management, work management, occupational health and safety and environmental management.
CORPORATE CARBON FOOTPRINT – ANALYSIS

With the aim of establishing a basis for a future climate strategy and identifying CO2 hotspots, the Nordex Group comprehensively analyzed the entire CO2 footprint of the organization for the first time in the base year of 2019.
In this context, the emission sources were categorized and considered in the following common categories: all direct emissions (Scope 1); indirect emissions that are generated when creating purchased energy (Scope 2); and all emissions on the upstream and downstream value chain (Scope 3).
In 2019, a total of approximately 1,772,000 t CO2e were emitted during the business activities of the Nordex Group, including upstream and downstream processes. Of this, nearly all greenhouse gas emissions fall under the area of Scope 3 at 98.7%, while direct emissions from Scope 1 were just 0.9% and the indirect emissions from Scope 2 make up roughly 0.4% of the entire environmental footprint of the Nordex Group.
The analysis of the CO2 footprint forms the basis for the development of a targeted climate strategy, for setting long-term reduction targets and elaborating efficient emission reduction measures.


RESPONSIBILITY IN SOCIETY
SOCIAL RESPONSIBILITY IS PART OF OUR CORPORATE IDENTITY.
We are a dynamic company that operates in more than 40 countries. Taking on social responsibility even on a local level is part of our corporate identity. We get involved at all locations and promote the development of each region. In harmony with the principles of the "2030 Agenda for Sustainable Development" of the United Nations, we are committed to using global resources responsibly, protecting the climate and improving the living conditions of people in the area.
The key in this context is dialogue and sharing knowledge. This is why we concentrate our social commitment on supporting public and private education, initiatives related to renewable energies and climate protection as well as the promotion of social and humanitarian projects and institutions.
Sustainability ratings & ESG scores
There are various ESG ratings agencies that continuously monitor and confirm Nordex's sustainability performance. ESG stands for environment, social and governance. The agencies collect information on these topics, conduct research and evaluate us. These ratings encourage transparency concerning sustainability performance in our industry.
ESG Rating Scores
(As of September 2021)
Rating outcome: B Prime

One of the leading ratings agencies worldwide in the area of sustainable investments, ISS SEG, evaluated the Nordex Group with "B" in 2020 and singled out the company as one of the Top 3 companies in a sector comparison. Accordingly, Nordex continues to retain its "Prime Status", which distinguishes companies whose environmental and social activities are above the industry average.
Rating outcome: B

The non-profit ratings organization CDP (formerly Carbon Disclosure Project), which focuses on environmental impact, improved the evaluation of the Nordex Group in 2020 to a "B" in the area of "Climate Change". By doing so, they are acknowledging our constant efforts to integrate sustainability across all activities in the Nordex Group and to live these values holistically in the Nordex Group.
Rating outcome: A

The goal of the MSCI rating is to measure a company's resilience to long-term ESG risks. In 2020, Nordex achieved the rating of A (on a scale from AAA-CCC) in the MSCI ESG rating.
Rating outcome: 66 Gold

The Nordex Group was awarded a gold medal in recognition of sustainability achievement in May 2021. In order to receive a medal, companies must achieve a total point score of 66-73. The EcoVadis method involves the evaluation of guidelines, actions and reports published by companies in the thematic areas of environment, labor and human rights, ethics and sustainable procurement. International experts for sustainability analyze and review company data (supporting documents, 360 Watch results etc.) in order to obtain reliable ratings that consider the sector of the company, its size and its geographical location.
Rating outcome: 24.6 Medium

Sustainalytics helps investors to identify financially significant ESG risks at the security
and portfolio level. The agency measures Nordex's level of Nordex to industry-specific significant ESG risks and assesses how well we manage these risks. In April 2021, Nordex received an ESG Risk Rating of 24.6 points and was classified as medium risk by Sustainalytics, which indicates the possibility of significant financial impacts owing to ESG factors.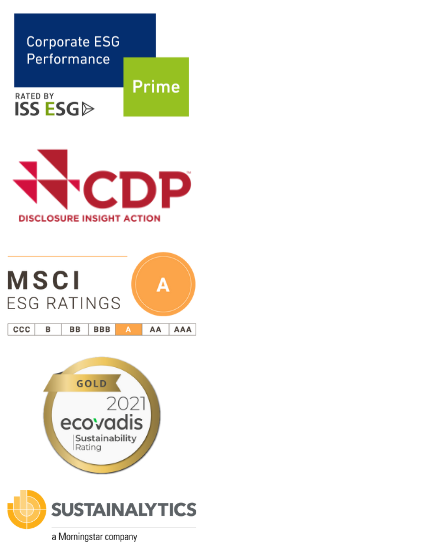 Sustainability reports & certifications
Since 2016, the Nordex Group releases an annual report about the latest developments, activities and key figures in the area of sustainability and documents the economic, ecological and social services and progress that are achieved through the sustainability strategy. We have summarized the most important sustainability figures and projects for the 2020 reporting year in the facts brochure.



We provide detailed information in our sustainability reports. The content of the reports focuses on the topics identified in the analysis of significant factors, which are summarized into five central areas of action. The sustainability report is audited by an independent auditing form in accordance with the International Standard on Assurance Engagements 3000 (ISAE 3000, Revised). The reports are created in line with the framework GRI standards of the Global Reporting Initiative (GRI) in the "Core" option.