USE WIND INTELLIGENTLY.
LIVE SUSTAINABILITY.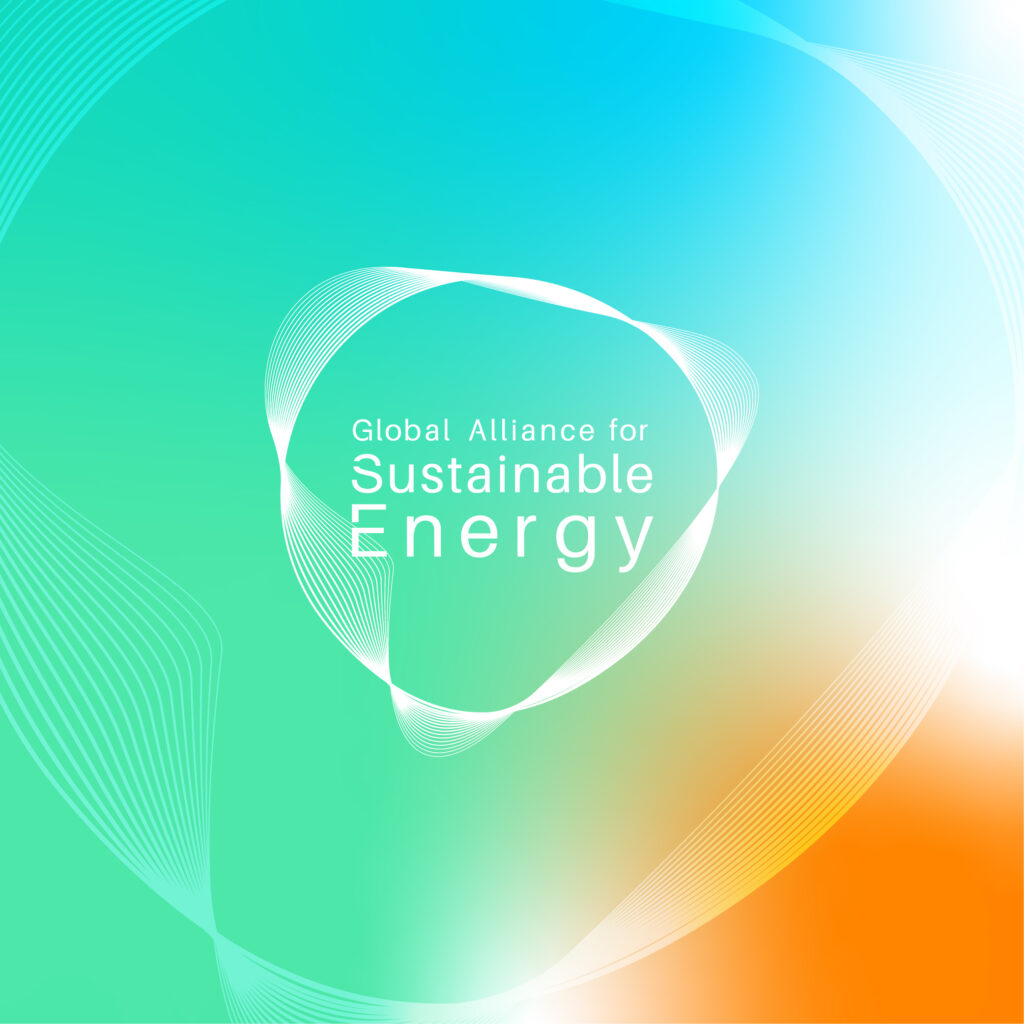 Global Alliance for Sustainable Energy is formed to take collective action towards the full sustainability of renewable energy! The Alliance is committed to the widespread adoption of best practices and the definition of sustainability standards across the solar and wind energy value chains, through education and partnerships. The Alliance aims to align the global renewables sector with the ultimate goal of becoming a 100% sustainable industry, defining concrete steps now in order to achieve net zero by 2050.
The Goal: To become a real sustainable company in all areas.
As a supplier of innovative onshore wind turbines, we make a sustainable contribution to steadily increasing the share of renewable energies within the global energy mix. Sustainability is at the core of our business model. Even though our systems are extremely efficient and the technological standard is already very high, we can not be satisfied with this. Being deeply convinced that both a sustainable mindset and business activity are vital, not only to ensure the future viability of the Nordex Group, but are required to secure an environment for generations to come, at the Nordex Group we pursue a holistic approach to sustainability.
We set ourselves ambitious objectives on the road to becoming a sustainable company in all areas, and beside considerable progress already made, we aim for continuous improvement. The objective is set, the way ahead defined in our sustainability strategy. We have grouped all our activities and objectives into five fields of actions.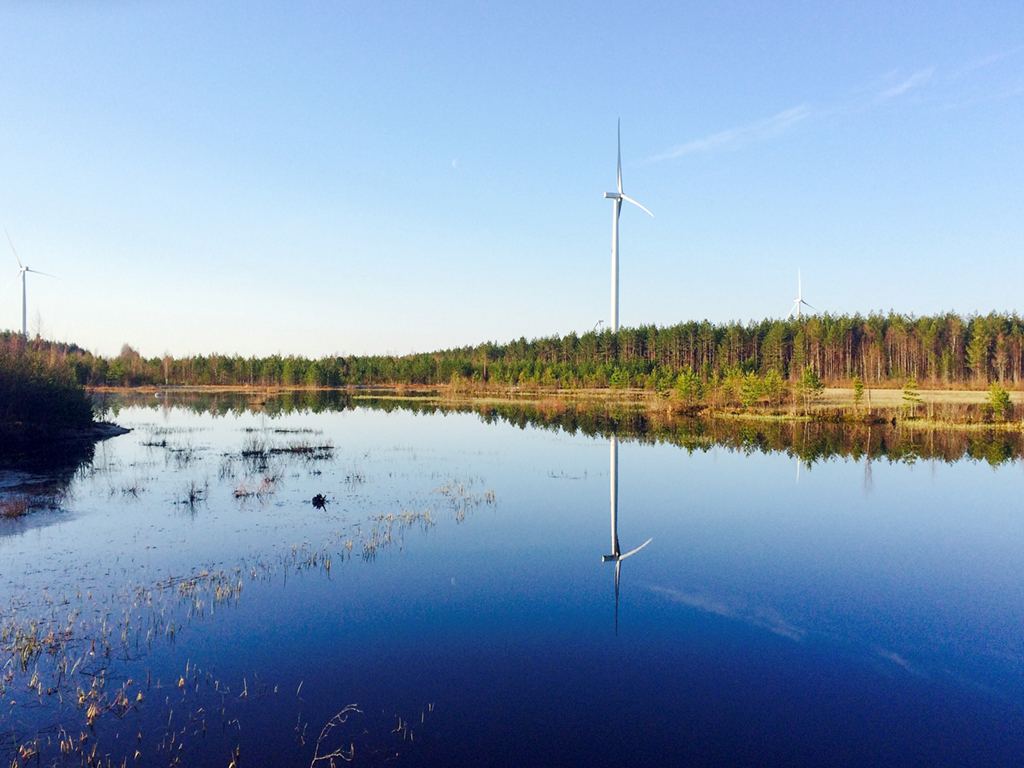 MAKING GREEN ENERGY AFFORDABLE
Right from the development and construction of our wind power systems, alongside technological further development, we prioritize environmental and societal aspects that include, serviceability, use of materials, noise emissions, health aspects and recyclability. To ensure wind power remains competitive, it will be essential to continually reduce our cost of energy.

Therefore, a central strategic aim of product development at the Nordex Group is an annual reduction in the cost of energy generation by a high single-digit percentage.
LIFE CYCLE ASSESSMENT
In 2019 the Nordex Group carried out a Life Cycle Analysis (LCA) on a wind farm equipped with our current Delta4000 turbine. In this assessment, we analyzed the full turbine life cycle according to the ISO 14040 and 14044 Standards.
A key indicator is the climate impact measured in greenhouse gas emissions per kilowatt-hour generated electricity. This shows the quantity of greenhouse gases emitted over a wind turbine's entire lifecycle in relation to its energy yield. At the wind farm, we analyzed, this value was 6.5 g CO2e/kWh.
When compared with the greenhouse gas emissions of fossil fuels per kilowatt-hour of electricity generated it becomes clear that high-efficiency wind turbines have a vital role to play in the global emissions reduction effort.
For a detailed insight, please see the audited report on the analysis and results: LCA Delta4000
Based on this LCA study Nordex published an Environmental Product Declaration according to the requirements of EPDItaly.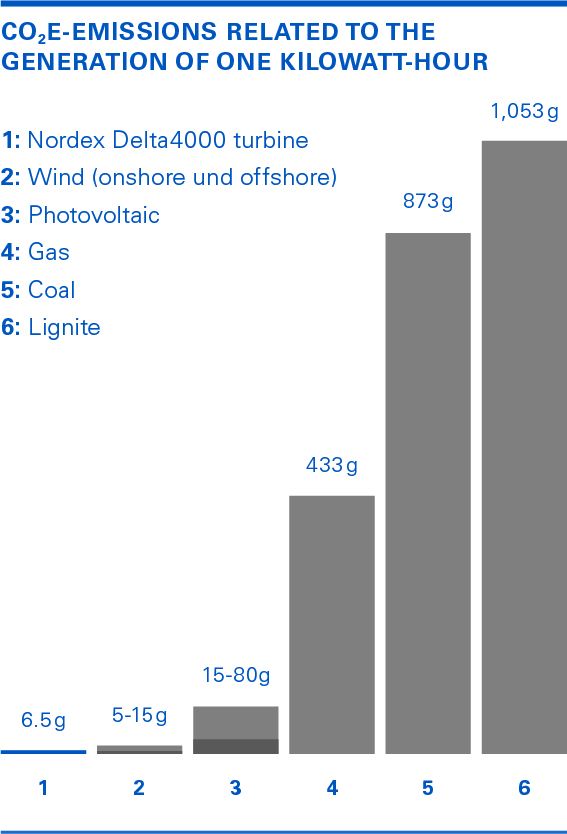 Employees & Subcontractors
Integrity, Respect, Collegiality,
and Ownership
EMPLOYEE RESPONSIBILITY
The Nordex Group's success is based on a corporate culture that focuses on recruitment, retention and further training, as well as the satisfaction, health, safety and diversity of our workforce. As a global company in which a variety of people with different backgrounds and cultures work, we understand the diversity of our workforce as one of our company's own assets. Men and women of different ages, with diverse cultural backgrounds, different attitudes and lifestyles, enrich our company and contribute principles of our work ethic and for our interaction with one another.
RESPONSIBILITY IN THE SUPPLY CHAIN
A significant share of our added value is created in the pre-production phases. We therefore see it as vital to ensure that our own environmental and social standards are also maintained throughout our supply chain. The Nordex Group Code of Conduct for Suppliers and Contractors forms the basis for this, and we expect and require all our subcontractors and suppliers to comply with it.
SAFETY FIRST
Being aware of the safety hazards are key to managing and preventing them. Based on this principle, at the Nordex Group we foster a culture of "safety first". We see it as our responsibility to go all efforts in order to ensure that our employees around the globe work in a safe and secure environment. No matter if you are an employee or a visitor – all our meetings start with a so-called safety contact to keep aware. All operational managers and team leaders in factories, service, construction sites and offices attend courses to strengthen the safety culture and are required to do so-called safety walks to establish a constructive dialogue about potential safety risks and measures in everyday working life.
Nearly all production sites, headquarters in Hamburg and Spain and other office locations are certified in accordance with the ISO 14001 environmental management standard and the OHSAS 18001 occupational health and safety standard. Global campaigns are executed to incorporate the message – safety at the Nordex Group is not a program, it´s a matter of heart.
ENVIRONMENTAL MANAGEMENT & RESOURCE EFFICIENCY
Through the considerate use of resources, we aim to continually reduce our environmental footprint. As a manufacturer of wind power systems, the Nordex Group's business activities are focused on generating electricity from wind in an efficient, environmentally friendly way. In doing so, we attach great importance to comprehensive environmental protection aspects in all lifecycle phases of our systems – from development, through sourcing, production and operation, to dismantling and recycling. We have implemented an integrated quality, occupational safety, health protection and environmental management system.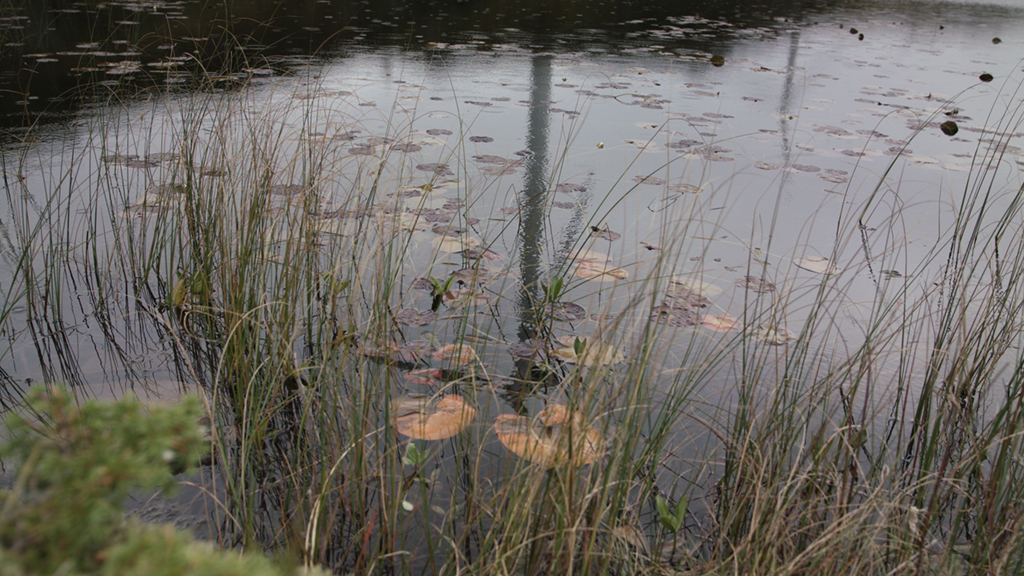 Taking on corporate social responsibility also at a local level
RESPONSIBILITY FOR SOCIETY
As an integral part of our Sustainability Strategy, we consider CSR as our opportunity to contribute to regional development and engage as a member of society in locations where we are based. We are committed to the United Nations 2030 Agenda for Sustainable Development principles of using global resources responsibly, protecting the climate, and ensuring people can enjoy prosperous and fulfilling lives.
Knowledge exchange and transfer are of key importance. This is why at the Nordex Group we focus our social engagement activities on supporting public and private training, on further education institutes that are active in the areas of renewables and climate protection, and on backing social and humanitarian aid projects and institutions.
THE GUIDING PRINCIPLE: HUMAN RIGHTS
Our business decisions and activities, including our investment agreements, are subject to upholding human rights globally. We place the same demands on our business partners.
The principles of the UN Global Compact, the OECD Guidelines for Multinational Enterprises, and the UN Universal Declaration of Human Rights that stipulate zero tolerance for child labor, forced labor, discrimination and retaliatory measures, serve as our guiding principles.
Corporate ESG Performance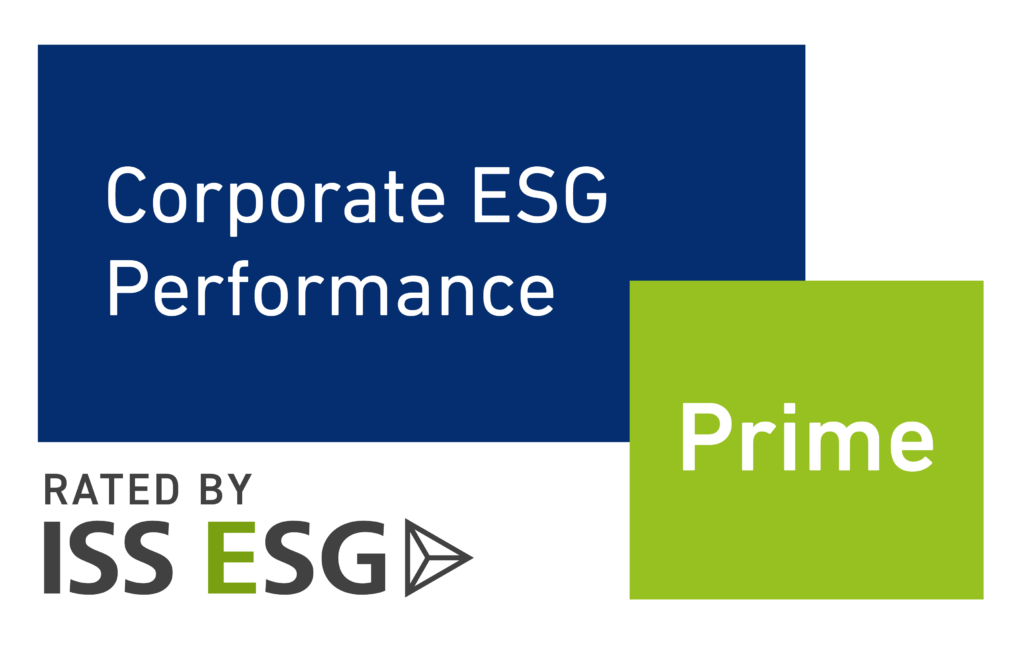 One of the world's leading rating agencies for sustainable investments, ISS ESG, awarded the Nordex Group a "B" rating in the reporting period. This means Nordex retains the "Prime Status" awarded to companies that outperform the industry average with regard to environmental and social aspects.