THE NORDEX GROUP
IN TURKEY
The Nordex Group in Turkey
27 %
MARKET SHARE,
LEADER SINCE 2017
The Nordex Group has been active in the Turkish market since 2009. The subsidairy Nordex Enerji A.S. Turkey became the market leader in the wind industry in 2017 and continues to hold this position. There is high potential for the use of wind energy in Turkey given that the mountain ranges in central Turkey and especially the western coastal region offer consistently good wind speeds. The expansion and promotion of renewable energies is an important goal of Turkish energy policy, with the share of renewable energies in electricity generation to grow to at least 30 % by 2023. In particular, the use of wind power for producing electricity has increased sharply in recent years against this backdrop.
Wind has been our business since 1985 with over 25 subsidiaries, we are close to our customers around the globe – Turkey has been part of our business since 2009.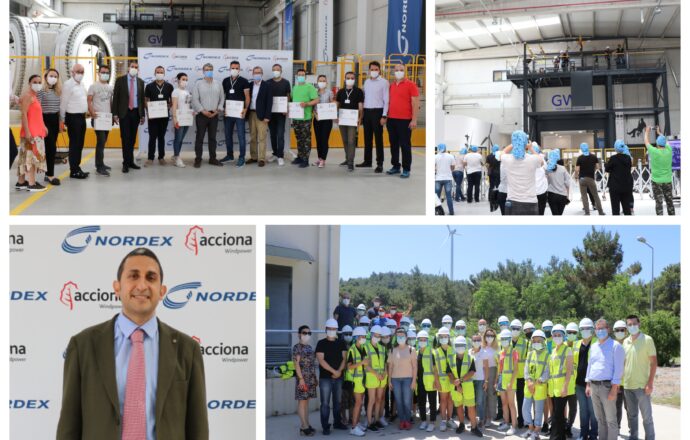 EXEMPLARY COOPERATION IN THE WIND ENERGY VOCATIONAL EDUCATION
Wind Turbine Technology Training for Vocational High School Students was held at Nordex Turkey Izmir Service and Technical Training Center. Wind Turbine Technology training was held in Nordex Turkey Izmir Service and Technical Training Center by Nordex Turkey within the framework of cooperation of Izmir Development Agency and the Izmir Provincial Directorate of National Education…
The Turkish headquaters are located in the business metropolis of Istanbul in the north-west of the country. The company also has a training centre and a customer service office in Izmir in close proximity to its customers' numerous wind farms on the west coast of Turkey. The Nordex Enerji A.S. team comprises a total of 334 employees. For projects in Turkey, locally produced components such as rotor blades, anchor cages, towers, generators and nacelle and tower connection equipment are used in order to enable customers to benefit from local manufactured content.
WE'RE HIRING – EXPLORE YOUR JOB OPPORTUNITIES IN TURKEY
Your contacts & locations
Social Media & Company News