We want to provide fully recyclable blades by 2032.
We want to decrease the carbon footprint of our turbines by 25 % by 2025.
We want to keep the customer satisfaction at a high level of 4 (scale 1-6).
Economic & environmental efficiency and circularity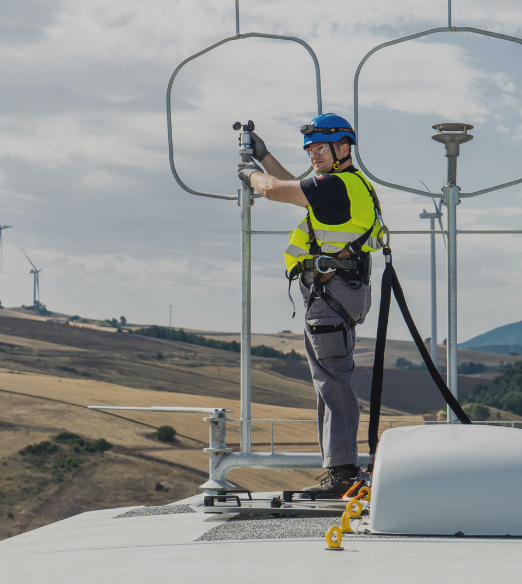 ~60 MILLION TONNES OF CO2E EMISSIONS WERE SAVED WORLDWIDE IN 2022 THANKS TO OUR TURBINES
We are constantly working towards our goal of meeting globally growing energy demand with power produced using regenerative and environmentally friendly technologies, and thereby actively driving the energy transition. When designing our turbines, but also during construction, installation, service and the end-of-life phases, we actively consider economic, ecological, social and health and safety-related aspects to further drive economic and environmental efficiency and circularity.
CUSTOMER ORIENTATION AND PRODUCT QUALITY
The satisfaction of our customers is decisive to our business success. For this reason, it is fundamentally important for us to consider our customers' perspectives, understand their needs and continually adjust our range of products and services accordingly. We rely on ongoing, intensive customer dialogue, e.g., through regular customer satisfaction surveys and stakeholder roundtables, to manage customer satisfaction.
OUR SUSTAINABLE PRODUCT APPROACHES
Lower material use and efficiency
gains through modularization
Since the Delta4000 turbine is designed for the global market, we pay special attention to harmonization and the modularity of components. This facilitates material handling and stockkeeping at the different production sites worldwide as well as in the service phase.
Dismantling and recycling
Internal analyses and sector-internal calculations show that around 85 % to 95 % of materials used in a wind turbine are already recyclable. To further enhance recyclability we are focusing particularly on the composite materials used in rotor blades. One main goal is to provide fully recyclable blades by 2032, and in order to reach this goal, we conduct and participate in a number of Research and Development projects. One of these projects is the European-funded "Wind turbine blades End of Life through Open HUBs for circular materials in sustainable business models", or EoLO-HUBS for short. The general objective of the EoLO-HUBS project is to demonstrate and validate a set of innovative composite material recycling technologies.
Reduction in Cost of Energy
We reduce the electricity generation costs with the company-wide "Cost of Energy (COE) program", for example, by using "value up" approaches such as yield increase or extension of service life with equivalent or only slightly increased usage of resources. This goes hand in hand with "cost down" initiatives such as improving logistics concepts for more efficient transport as well as material savings in components through further improved design.
Repair and refurbishment
in Service
We provide strong service with improved product development processes to minimize downtimes and maximize yields, e.g., by using self-hoisting crane solutions – and thereby reducing the environmental impact of our turbines.
Expanded range of applications for
Nordex turbines worldwide
We are adapting our turbines to changing climate conditions. Thanks to technical optimizations high energy yields can also be achieved in regions with particularly low or particularly high average temperatures.
This means replacing wind turbines that are close to or at the end of their planned lifetime with more efficient turbines to maximize energy generation. In this way, we work towards achieving targets in the area of renewable energies and make considerable gains in resource efficiency.
We implement health and safety requirements for a smooth maintenance process, a safe working environment and reduced downtimes. We continually observe all relevant regional market requirements and identification of statutory and normative minimum obligations in the relevant target markets and operating markets.
Turbine control systems to protect flora, fauna and local residents
We enable innovative control of facilities to protect flora and fauna as well as local residents by offering a variety of operating modes and equipment modules (e.g., needs-based warning lights for aircraft, shadow flicker module, special-purpose wildlife protection modules or sound-reduced modes).
Life cycle assessment (LCA)
PRODUCT CARBON FOOTPRINT
In the Nordex Group we perform life cycle assessments (LCAs) according to ISO 14040 and ISO 14044 to evaluate the environmental impacts of our products in order to identify optimization potential and track improvements. We published our first LCA report 2020 and analyzed two more turbine types in 2022. Based on the results of these LCAs, we created Environmental Product Declarations (EPD) to provide harmonized and externally verified sustainability information. In our latest LCA report for the Delta4000 turbines, we found that the specific carbon footprint, measured in carbon dioxide equivalents (CO2e), for producing 1 kWh of electricity is as low as 2.7 g CO2e over a turbine's entire life cycle.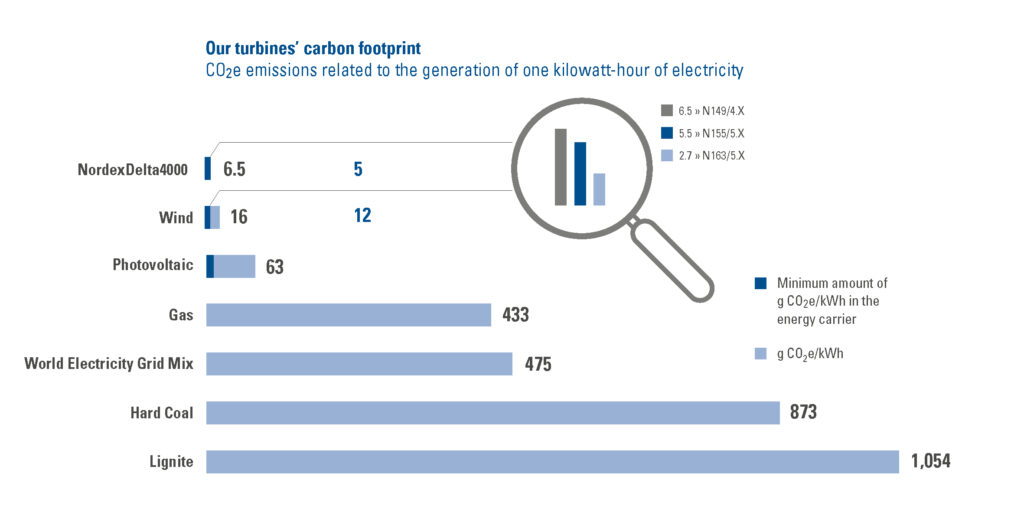 MATERIAL MIX
Taking a look at the materials used in a Nordex N149/4.0-4.5 TS105 turbine it can be seen that the foundation accounts for around three quarters of the total weight.
Regarding the turbine alone (without its foundation), steel is the dominant material making up 87 % of the material mix, followed by glass fiber and carbon fiber reinforced composites at 9 % and plastics at 1.5 %. The remaining 2.4 % are composed of other materials such as operating fluids, electronics, aluminium or copper.
In general, the material composition depends on the Nordex turbine type. With hybrid or concrete towers, the material mix therefore looks different.
ENERGY AND CARBON PAYBACK TIME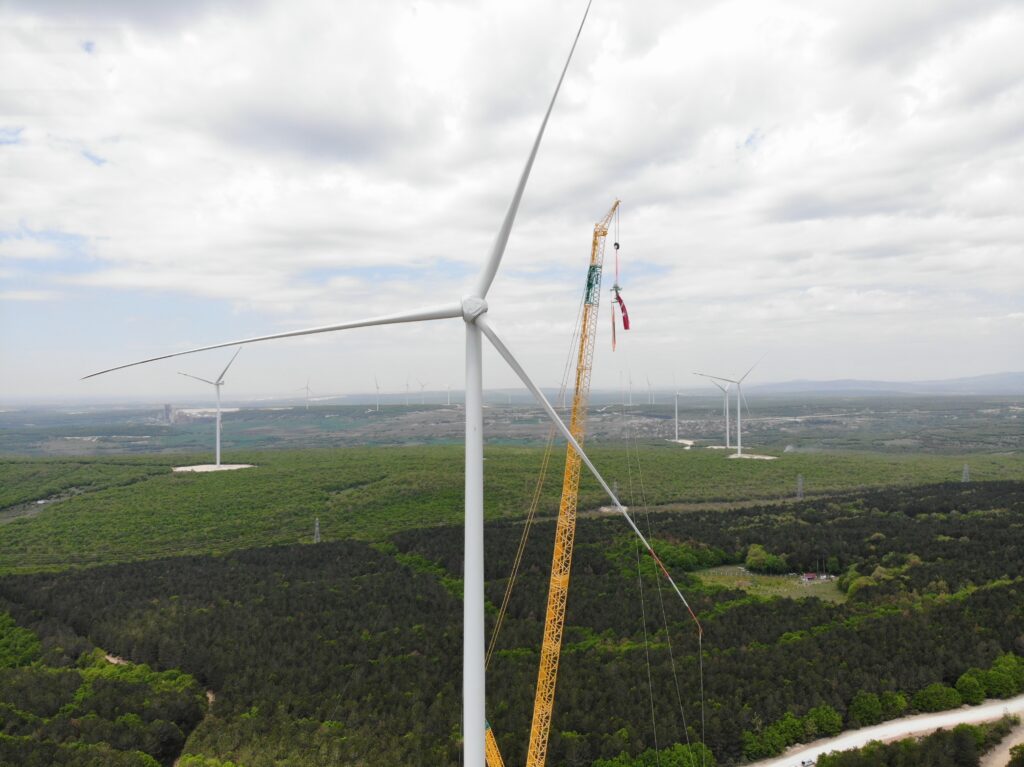 AFTER ONLY AROUND TWO TO FOUR MONTHS OF OPERATION, A NORDEX DELTA4000 TURBINE STARTS PAYING BACK ITS CARBON EMISSIONS!
The carbon payback time represents the period of time a turbine needs to be in operation before it has avoided as many CO2e emissions as were potentially released over its entire lifecycle.
The energy payback time represents the running time required for a turbine to generate the amount of energy that is consumed over its complete life cycle. The results for our Delta4000 turbines lay between 5.0 and 7.7 months.