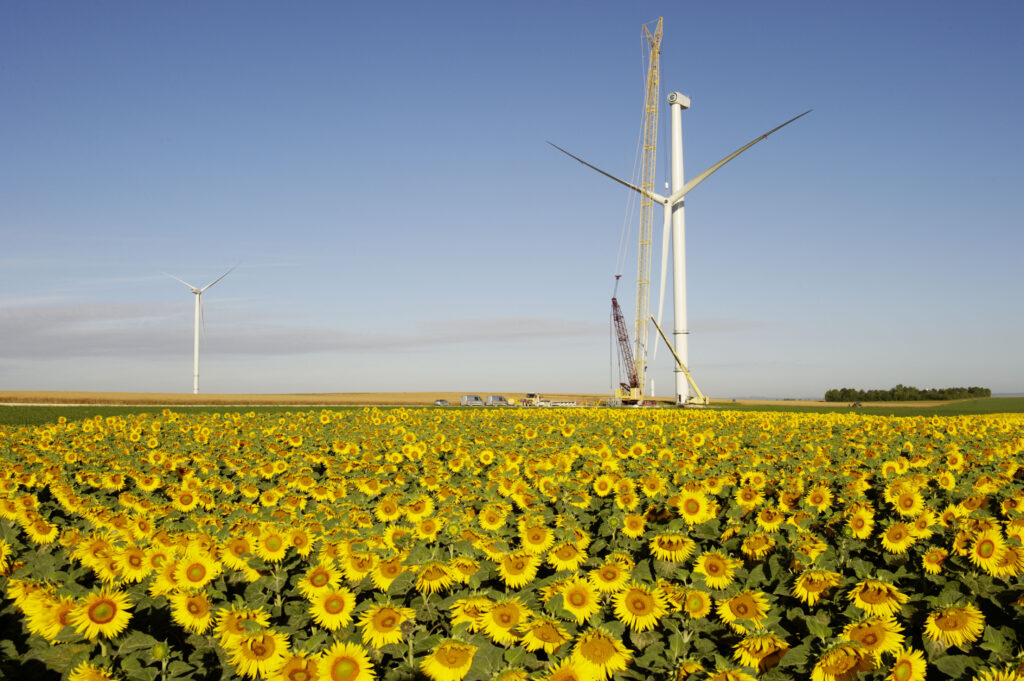 The EU "Green Deal" comprises the ambitious goal of achieving CO2 neutrality in Europe by 2050. To succeed in this, the EU Commission has defined a series of measures within the "Sustainable Finance" action plan to channel capital flows into environmentally sustainable activities. A core component is the EU Taxonomy Regulation 2020/852 ("Taxonomy Regulation"): This includes a uniform and legally binding classification system in order to classify economic activities as environmentally sustainable (= Taxonomy-aligned) activities.
According to the Taxonomy Regulation, an economic activity is considered Taxonomy-compliant if it:
Makes a significant contribution to the achievement of one or more of a total of six environmental objectives, in accordance with Articles 10 to 16;
Does not significantly impair the achievement of the five other environmental objectives (Do No Significant Harm – DNSH), in accordance with Article 17;
Complies with minimum requirements for occupational safety and human rights at company level (social safeguards), in accordance with Article 18.
Our activities and assessment of Taxonomy eligibility
For the reporting period from January 2022 onwards, companies are obliged to report their contributions to two of the EU taxonomy environmental objectives: "Climate change mitigation" and "Climate change adaptation". The Nordex Group supports the taxonomy regulation as an important step towards a sustainable transformation of the economic system by presenting the assignation and the proportion of our taxonomy-eligible activities. Our core business activities (turnover-relevant) – in the Nordex Group these are the "project" and "service" segments) – can be assigned to two EU taxonomy activities:
EU Taxonomy activity


3.1 "Manufacture of renewable energy technologies"



7.6 "Installation, maintenance and repair of renewable energy technologies"







Description


Production of rotor blades, nacelles and concrete towers for the manufacture and assembly of wind turbines
Provision of services for remote monitoring, preventive maintenance, and customer training as well as modernization, set-up and operationalization of wind turbines, wind farm system planning and project development business
NACE Code


C28
C.28.11 ("Manufacture of turbines")



C28
C.28.11 ("Manufacture of turbines")

F42
F42.22 ("Installation of wind energy plants")




Allocation to Nordex Segment
Projects (proportionally)





Projects (proportionally)
Service









Further activities result in "supportive" investment expenditure and overheads and are considered individually as a service under CapEx and OpEx. These include, for example, part of our vehicle fleet for administrative staff and the lease of buildings for our administration:
• 6.5 Transport by motorbikes, passenger cars and light commercial vehicles
• 7.7 Acquisition of and ownership of buildings
In accordance with the Taxonomy Regulation, and amending Regulation (EU) 2019/2088, the Nordex Group discloses three key figures for its economic activities which are considered environmentally sustainable accoring to the EU taxonomy: share of revenues (turnover), operating expenses (OpEx) and capital expenditure (CapEx).
In order to avoid double counting, we assign this contribution exclusively to the first environmental objective.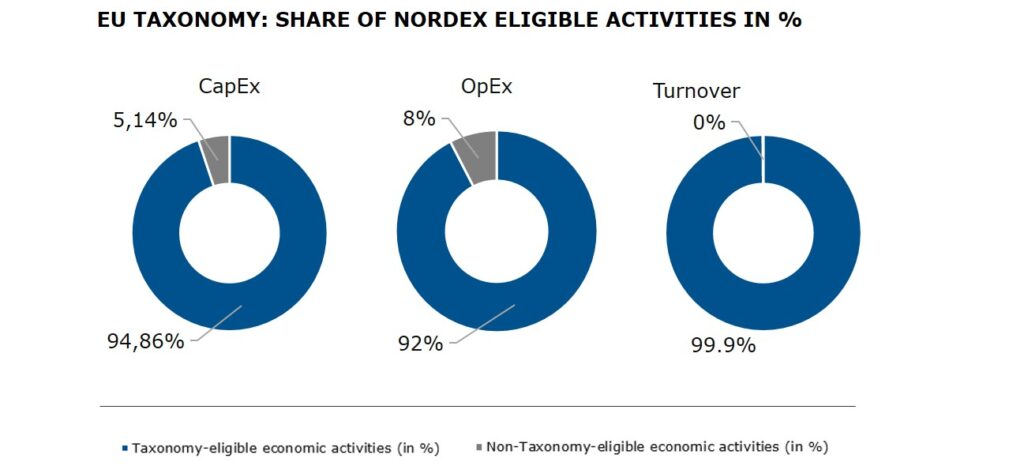 FIRST ASSESSMENTS: CONTRIBUTION TO THE FIRST TWO ENVIRONMENTAL OBJECTIVES AND COMPLIANCE ON EU TAXONOMY
Nordex's business activities make the greatest contribution to the first and second environmental objectives of the EU taxonomy; climate change mitigation and climate change adaptation.
We assume that our business activities will not significantly impair any of the environmental objectives and we believe that we comply with the minimum protection measures. However, there are still many uncertainties regarding the application of the EU Taxonomy Regulation. We have already started to examine our degree of compliance with the DNSH criteria associated with the individual environmental goals in the 2021 reporting year at our own discretion, and will communicate them transparently in the upcoming Sustainability Report 2022.
INTERNAL PROCESSES AND OUTLOOK

In order to determine the Taxonomy eligibility of our business activities, the Sustainability Department assumed a coordinating role and set up a Working Group consisting of members from various departments. The Nordex Group continues the analysis to determine the Taxonomy alignment as a reporting requirement for the financial year 2022.
Further information and a conclusion with limited assurance can be found in the separate Non-financial Group Report (included in the Sustainability Report 2021) based on the assurance engagement of our auditor PricewaterhouseCoopers GmbH Wirtschaftsprüfungsgesellschaft.

A comprehensive summary and an initial outlook on Taxonomy-alignment can be found in "Nordex Group's consolidated disclosures pursuant to Article 8 Taxonomy Regulation".