We want to define science-based targets (SBTs) in line with the 1.5°C target ambition.
We want to achieve climate neutrality (scopes 1 & 2) by 2023 and continuously improve our climate impact.
We want to achieve zero production waste to landfill by 2025.
We want to reduce hazardous materials and minimize their hazard potential.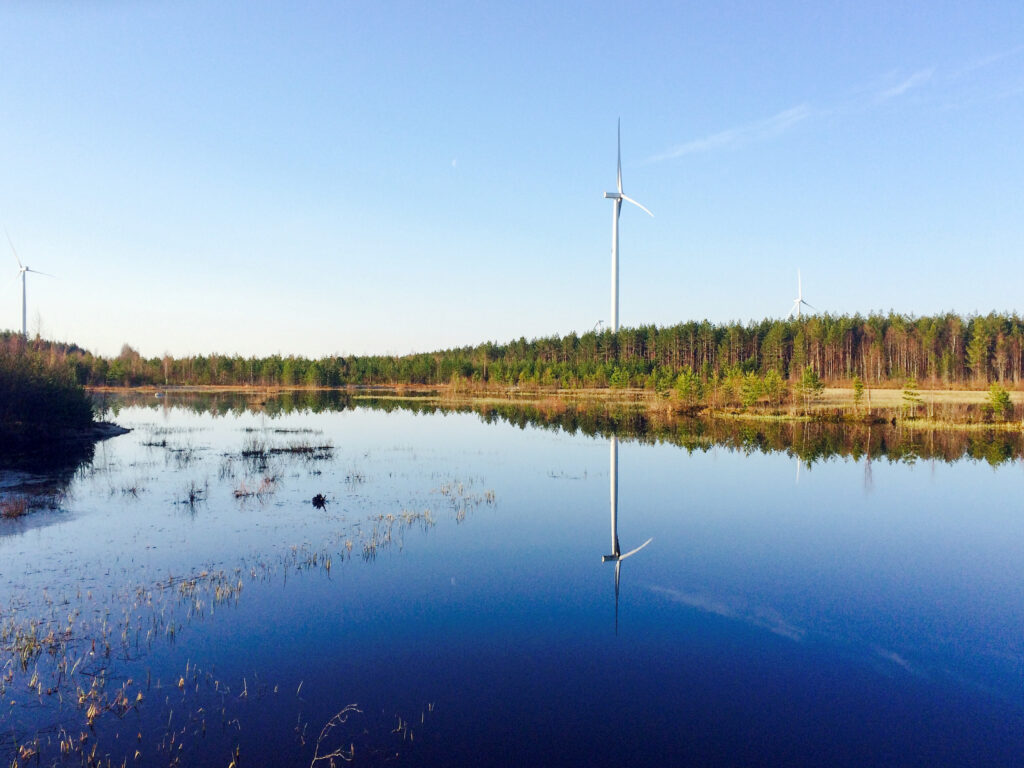 We can only offer our customers truly sustainable wind power turbines if our processes are environmentally friendly and resource efficient. The Nordex Group works continually to reduce its greenhouse gas (GHG) emissions, prevent waste, minimize the use of hazardous substances, improve water efficiency and control for local environmental impacts as well as biodiversity protection . We are permanently committed to analyzing all aspects in detail and documenting them transparently to develop case-specific and appropriate solutions that prevent negative effects on the environment.
Climate Change & Decarbonization
CORPORATE CARBON FOOTPRINT ANALYSIS
As basis for our climate strategy and the identification of CO2 hotspots, the Nordex Group annually quantifies its corporate carbon footprint (CCF).
In this context, the GHG emission sources are categorized and considered in the following common categories: all direct emissions (Scope 1); indirect emissions that are generated when creating purchased energy (Scope 2); and all emissions on the upstream and downstream value chain (Scope 3).
In 2021, a total of approximately 3,506 kt CO2e were emitted during the business activities of the Nordex Group nearly all GHG emissions fall under the area of Scope 3 at 99.3 %, while direct emissions from Scope 1 were just 0.7 % and the indirect emissions from Scope 2 make up less than 0.1 % of the entire environmental footprint of the Nordex Group. The low share of scope 2 emissions shows that our success to switch to entirely green electricity consumption and implement energy-efficiency measures is delivering positive results.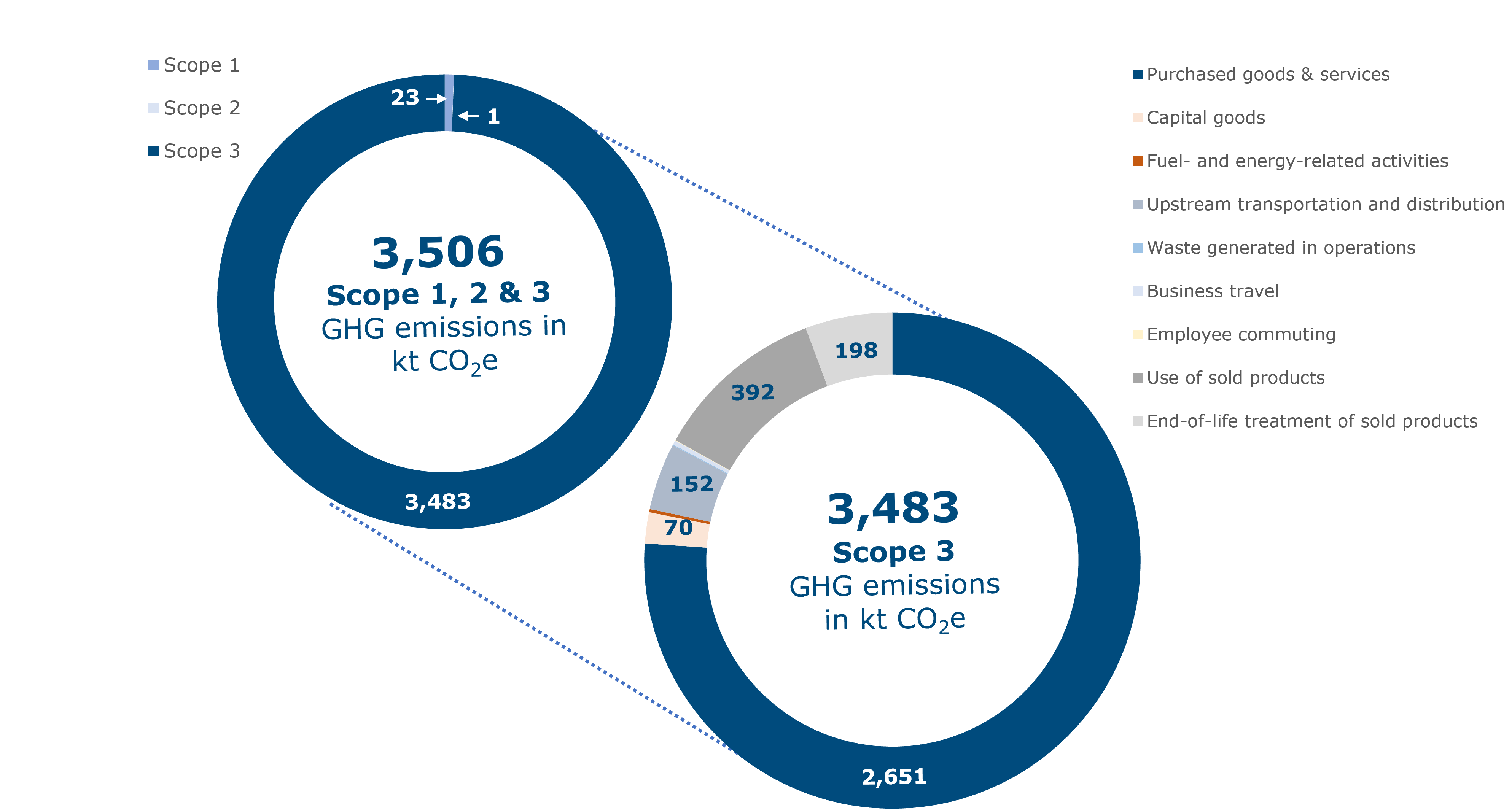 ~ 60 MILLION TONNES CO2E WERE AVOIDED IN 2022 BY ALL NORDEX TURBINES IN OPERATION.
SCIENCE-BASED TARGETS
The annual analysis of the Nordex Group's corporate carbon footprint provides the basis for the development, monitoring and achievement of ambitious climate targets. At the end of 2021, we officially committed to setting SBTs and achieving short- and long-term GHG emissions reductions in keeping with the criteria of the Science Based Targets initiative to reach the 1.5°C target. Following the finalization of the development of a climate action plan for reducing scope 1, 2 and 3 emissions, we will define our SBTs for scopes 1 to 3 in 2023.
TCFD CLIMATE RISK AND OPPORTUNITY ASSESSMENT
We conducted a thorough assessment of climate-related risks and opportunities in alignment with the recommendations of the Task Force on Climate-related Financial Disclosures (TCFD) in 2022, which lays the foundation for developing a comprehensive climate change adaptation plan.
IMPROVING THE NORDEX GROUP'S CLIMATE IMPACT
Since 2021, we have obtained 100 % of our purchased electricity from renewables by taking advantage of various methods including the Group-wide procurement of Energy Attribute Certificates (EACs). The obtained EACs are verified by third-party labels and predominantly originate from wind- and solar- based electricity. We plan to deepen our commitment to 100 % green electricity consumption by developing a corporate Green Electricity Policy.
Apart from implementing effective energy efficiency and GHG emission reduction measures, the Nordex Group also recognizes the need for offsetting emissions that cannot be avoided yet. We consider such offsets as a bridging technology on our way to a thoroughly low-carbon business activity and will therefore compensate remaining scope 1 and 2 emissions by purchasing selected CO2 certificates to achieve climate neutrality from 2023 onwards.
As a manufacturer of wind turbines, the production of facilities for environmentally-friendly and efficient power generation from wind is the core of our business model. In this regard, we place a high value on environmental protection across all life cycle phases of our systems, from development to procurement, production and operation all the way to dismantling and recycling.
To this end, we rely on integrated systems for quality management, work management, occupational health and safety and environmental management. Apart from efforts to reduce GHG emissions resulting from our business activities, the Nordex Group focusses on environmental protection through Waste Reduction, Reducing Environmental Effects of Hazardous Materials, Water Efficiency and Biodiversity Protection.
Waste reduction plays a special role in environmental protection at the Nordex Group and refers to our waste and waste-related impact as well as the reuse and recycling of waste. . We primarily differentiate between hazardous and non-hazardous waste, which we manage responsibly and reduce where possible. To drive our efforts forward, we have set ambitious targets for waste reduction and increased waste recovery in our Sustainability Strategy.
Reducing Environmental Effects of Hazardous Materials
To ensure the high quality of our turbines, the use of hazardous materials is currently essential in some areas. To avoid negative effects on people, the environment, and shared natural resources, we must guarantee that these materials are used and transported in a legally compliant way at all times. During the development process in our production plants and the related material specification activities, we evaluate whether the hazardous materials we plan to purchase are compatible with our Company guidelines. In line with the goal of our Sustainability Strategy to reduce hazardous materials and minimize their hazard potential t their substitution remains a cornerstone of environmental management for the Nordex Group.
Water efficiency refers to the Nordex Group's water impact management, particularly when we source water from water-stressed areas, and to our approach to reducing water consumption in our operations and administration activities. Since most of our production activities do not require water for manufacturing purposes, our water demand remains relatively low. We are aware that excessive water use can impact local communities in areas facing high water stress. We will therefore especially focus on these areas when we develop and implement water-saving measures as part of our Sustainability Strategy.
Biodiversity protection involves avoiding, mitigating, and addressing any significant negative impacts our products and services might have on the natural environment, including habitats and species, terrestrial, marine and other aquatic ecosystems, and the ecological complexes of which they are a part. To the best of our knowledge, we do not operate facilities located in or near protected areas or areas with high biodiversity value. However, we are aware of the impact we may have on local flora and fauna irrespective of the prevailing biodiversity value. We therefore also seek to identify measures that can support preserving biodiversity.