Meet Team Nordex – Sevinç Rustemoglu, W&S Engineer
Sevinç is a Wind & Site Engineer (W&S Engineer). Her task is to analyse provided wind data and run the necessary calculations to check the suitability of proposed turbines over the estimated lifetime of the project. The newly developed projects are in remote areas and when the project comes to the W&S department there is nothing on site (only the met mast) in general. The W&S Engineers starts the analysis of provided wind data which was measured on a met mast (preferably at hub height) and uses any topographical information (like forestry maps, digital elevation maps), if they were provided. After the Wind & Site study is performed, the rest of the sales team can understand the project in a more detailed way and perform their own financial analyses. With the Wind & Site study, sales and product development teams can have an idea about general site conditions (such as whether the site is exposed to severe weather conditions or not), estimated annual production values over the site or which turbine will be best suited. Generally, the customers know what they can expect as they have advised a W&S consultant before they contact the supplier, but sometimes the customers get their first impressions from Nordex W&S Team when the project is in an early stage.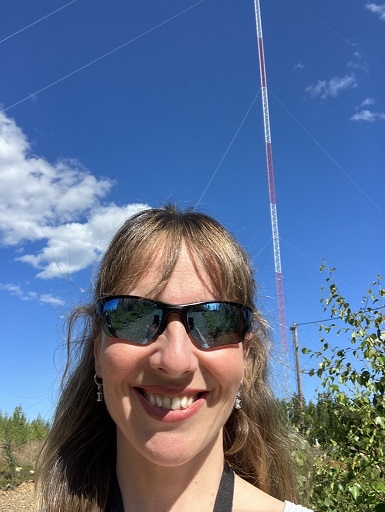 Sevinç is an electrical engineer with a bachelor's degree in electrical engineering at Istanbul Technical University. Whereafter, she studied a master's degree in Energy Sciences & Technology with a specialization in wind energy at the same university.
When Sevinç was studying a master's degree, she started to work (2007) at a local energy company called Aksa Enerji A.S as a project engineer; mainly related with electrical designs and component specifications of switchyards in natural gas power plants. She then moved to the wind department at the same company.
Sevinç started as W&S Engineer at Nordex Türkiye in Istanbul in 2011. In 2014 she left the company as she moved to Ankara with her family.
In Ankara, Sevinç started to work at the local electrical distribution company (Başkent Elektrik Dağıtım A.Ş., Enerjisa) in the planning department for the development of electrical infrastructures of distribution systems around the capital city.
When Sevinç gave birth to her son in 2016, she left her current position to take care of her son for two years.
In 2018 Sevinç once again applied for an open position as a W&S Site Engineer at Nordex Türkiye in Istanbul. She moved back to Istanbul the same year and started to work for Nordex Türkiye.
Sevinç started working on projects in European Region from the Turkish office in 2019, as the Nordex Türkiye agreed to contribute to Wind & Site studies globally for Nordex Group from the Turkish office. Sevinç says that she saw an open position in the Nordex Sweden office in 2022, "I wanted to work in a more international environment and increase my experience with the Nordic projects, so therefore I applied for a position in Sweden."
On the 9th of March 2023 Sevinç took a flight to Sweden. She really liked the Swedish office and the supportive colleagues. "There is a very friendly office environment which made my transfer much easier." Sevinç is learning the Swedish language and really enjoying going out in the Swedish nature.
Answering what she would like to do in the future Sevinç says, "My target is to increase my experience with wind & site analysis of Nordic sites and extend my knowledge with the theoretical background of new implementations (ongoing developments of remote sensing devices etc.) and new technologies for off- and onshore sites. In the future I would like to be an advisor in wind developments and have collaborations with universities."